For women entrepreneurs, thought leaders and executives who are ready to LAUNCH!
"Aside from being a smart entrepreneur and brilliant designer with a keen marketing eye, Melanie is someone who takes her clients to heart, immersing herself fully into their success." – Christine McLeod
Ignite HER – Business Branding Package
A comprehensive professional business branding package—exclusively for women.
No messing around. Get it right the first time with our customizable package which includes; 1:1 personalized brand development, Awaken Brand Score process, our 360° Brand Analysis, crafting of strategic brand messages, logo design & guidelines, education tools, and customized social media package.
Our objective is to help you achieve brand harmony and increased market awareness by creating a powerful and consistent brand identity across all mediums.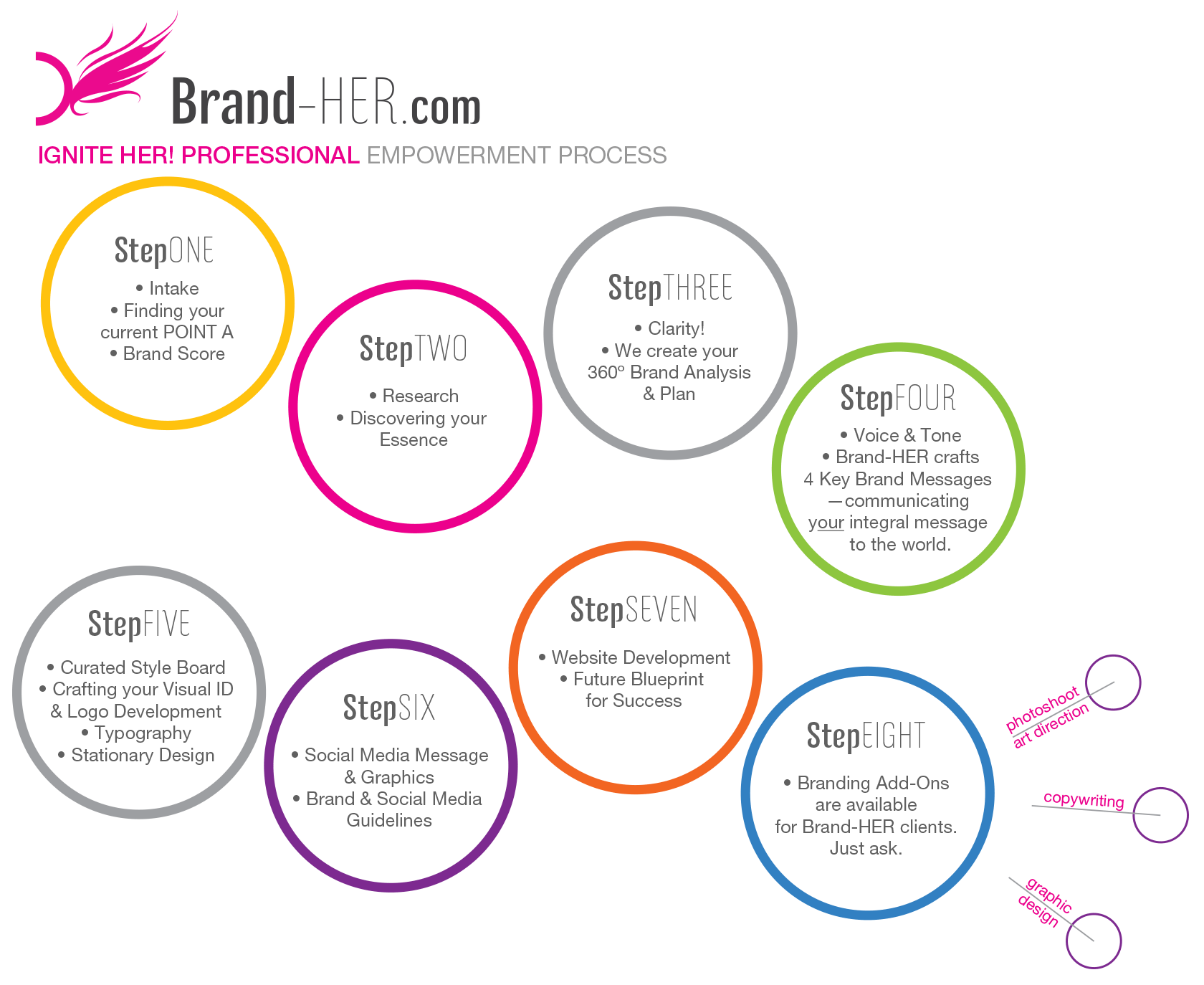 Step 1-4: Define Her.
Includes:
Ignite HER 360° Brand Analysis: This comprehensive and collaborative process is developed through four 1-hour consultations combined with multiple customized exercises. We navigate you through this process to establish a firm foundation for a successful and personalized brand.
"I've been working on my website, and the info from the 360 Brand Analysis is awesome! I love being able to easily plug things in, now that all the hard work is behind me." – Jen
BRAND FOUNDATION
Vision: What is her BIG AUDACIOUS DREAM?
Target: Who is on fire for her and what she has to offer?
Competition: Who are they, where are they? Keeping a finger on the pulse.
Differentiation: How is she unique?
BRAND STYLE
Promise: What hopes, needs and desires does her work satisfy?
Values: What does she stand for and how does she do it?
Solution: What problem can she solve for her clients?
Benefit: Her core strengths and advantages?
Concept Exploration: What business is she in and what niche will she fill?
Naming her business: A name she can step into and own—if required.
STRATEGIC BRAND STATEMENTS
Wouldn't CLEAR messaging make selling your business easier?
Succinct Vision/Mission Statement
Profound Purpose Statement
Passionate Positioning Statement
Short & Sweet Tagline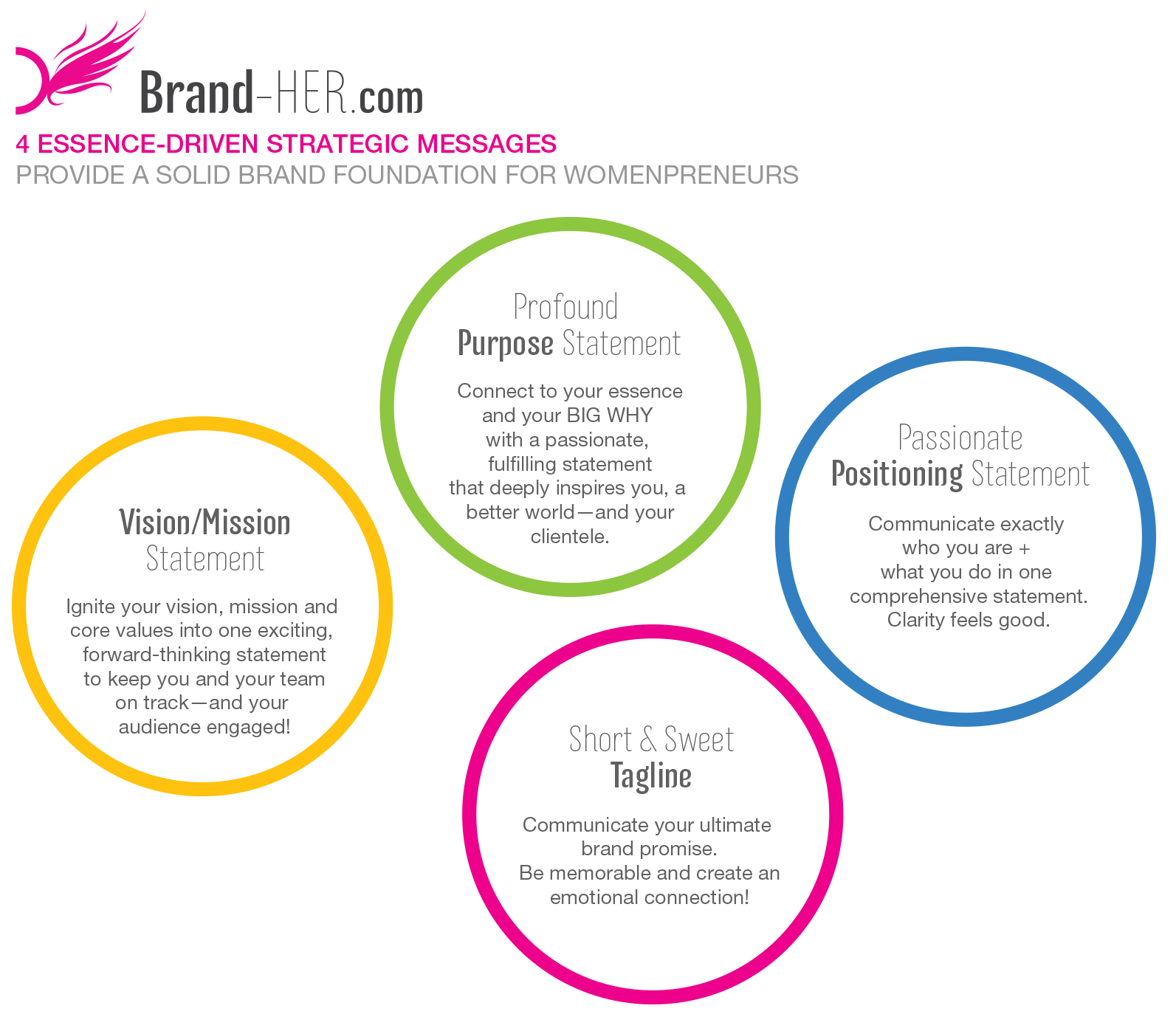 Step 5-8: Design Her.
Includes:
Now that you have clarity around who you really are and what sets you apart in the marketplace, it's time to create a cohesive logo & graphic package to reflect your true essence to the world. When what you say, what you do and your image are in alignment—magic happens.
Logo design
A meaningful & beautiful combo: your company image—based on the strong brand foundation created in steps 1-4
Logo Library: Final digital versions in various sizes for easy online and offline use
Brand Guidelines
Brand Elements Guidebook specific to your company (PDF)– Including logo usage, font palette and colour palette
Stationary
Business Card Design
Letterhead Design
e-signature
Socialize HER
Realize the power of Social in elevating your brand! Your Ignite HER Business Branding Package includes customized social media graphics to ensure brand consistency in your social channels.
"Having done all my branding just on instinct it has been incredibly helpful to have Melanie's expertise and knowledge help me break down what I really want my brand to communicate and how." – Ellie
Ignite HER Business Branding Package: $4358
50% to commence, 50% upon delivery. Timeline for our total branding package—4-6 weeks (depending on client availability). 
Ignite HER Business Branding Package plus Website Design and Development : Starting at $7500*
Split into four equal payments. *Website pricing varies per customer needs. Timeline for our total brand package PLUS website development—8-12 weeks (depending on client availability).